BUY 2 AT 15% OFF WITH CODE FAMILY 
"
Bought two of these for my granddaughters for Christmas. They are everything I hoped for. Beautiful and can't wait to give to them.❤
"
Tina, Calitsy Customer

⭐⭐⭐⭐⭐
"
We love it! She hasn't taken it off since I gave it to her."
Cindy, Calitsy Customer
⭐⭐⭐⭐⭐
Perfect for both Granddaughter & Grandmother
It comes with a beautiful message that shows the love and strong bond between grandmothers and granddaughters.


Quote:
It's a special bond that spans the years. Through laughter, worry, smiles and tears.
A sense of trust that can't be broken, a depth of love sometimes unspoken.
A lifelong friendship built on sharing, hugs, kisses, warmth and caring. 
Grandmother & granddaughter their hearts as one, a link that can never be undone.
Upgrade it for a Premium Look
Our premium Mahogany Style Luxury Box even comes with a LED Light for the extra glow and sparkle when she opens the box.
A Beautiful and High-Quality Interlocked Hearts Necklace
The 16 inches Chain Length with a 6 inch (15.24cm) extension will perfectly fit anyone that wears it.
The connected hearts are beautifully made with 18k Rose Gold and High-Quality Surgical Steel and shiny Zirconia Stones, so it will stay as beautiful as the first day for years to come and as strong as the bond that it represents.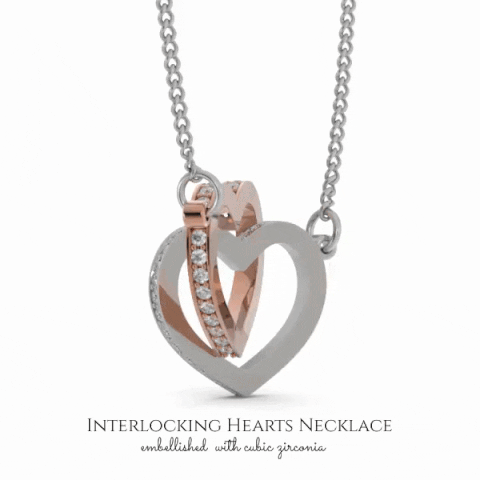 We specialize in High Quality and Meaningful Gifts

Our Products are specially designed for High Quality Jewelry with meaningful ways to show our appreciation for our loved ones that are the most special to us.
Our 5-Star Ratings speak for us
With an average of 4.9 stars on many of our products, we count with hundreds of happy clients that thanked us multiple times for the perfect gift they were looking for. See for yourself with our 100% Satisfaction Guarantee ! 
Unique, one-of-a-kind gift

NOT SOLD in stores

USA: 2-8 Business Days
Unique, one-of-a-kind gift

NOT SOLD in stores

USA: 2-8 Business Days
We've adjusted our estimates below based on the latest information from our carriers.
Once shipped, delivery within:
USA: 2-8 Business Days
Canada: 5-10 Business Days
Europe: 2-8 Business Days
International: 5-20 Business Days
All orders ship with Love from the USA
 BUY 2 AT 15% OFF WITH CODE FAMILY 

"

Bought two of these for my granddaughters for Christmas. They are everything I hoped for. Beautiful and can't wait to give to them.❤

"




Tina, Calitsy Customer


⭐⭐⭐⭐⭐

"

We love it! She hasn't taken it off since I gave it to her."

Cindy, Calitsy Customer

⭐⭐⭐⭐⭐

 




Perfect for both Granddaughter & Grandmother

 

It comes with a beautiful message that shows the love and strong bond between grandmothers and granddaughters.

 



Quote:

It's a special bond that spans the years. Through laughter, worry, smiles and tears.

A sense of trust that can't be broken, a depth of love sometimes unspoken.

A lifelong friendship built on sharing, hugs, kisses, warmth and caring. 

Grandmother & granddaughter their hearts as one, a link that can never be undone.

 

 

Upgrade it for a Premium Look

Our premium Mahogany Style Luxury Box even comes with a LED Light for the extra glow and sparkle when she opens the box.

 

A Beautiful and High-Quality Interlocked Hearts Necklace

The 16 inches Chain Length with a 6 inch (15.24cm) extension will perfectly fit anyone that wears it.

The connected hearts are beautifully made with 18k Rose Gold and High-Quality Surgical Steel and shiny Zirconia Stones, so it will stay as beautiful as the first day for years to come and as strong as the bond that it represents.







We specialize in High Quality and Meaningful Gifts


Our Products are specially designed for High Quality Jewelry with meaningful ways to show our appreciation for our loved ones that are the most special to us.

 

Our 5-Star Ratings speak for us

With an average of 4.9 stars on many of our products, we count with hundreds of happy clients that thanked us multiple times for the perfect gift they were looking for. See for yourself with our 100% Satisfaction Guarantee ! 

We've adjusted our estimates below based on the latest information from our carriers.

Once shipped, delivery within:

USA: 2-8 Business Days

Canada: 5-10 Business Days

Europe: 2-8 Business Days

International: 5-20 Business Days

All orders ship with Love from the USA
See what people are saying
about us